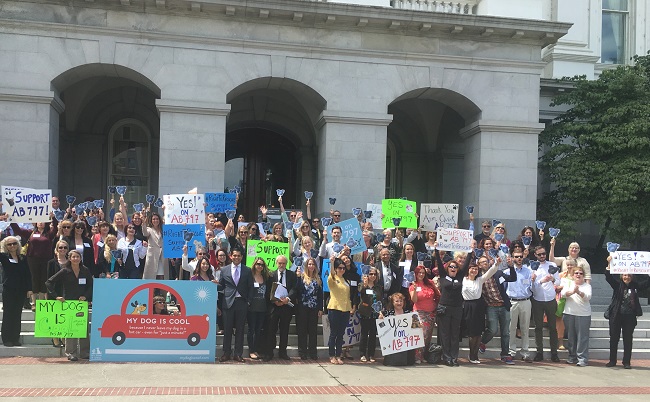 01 Jun

Bi-Partisan Group of Legislators Introduce California Right to Rescue Legislation

FOR IMMEDIATE RELEASE Capital Office: (916) 319-2053 District Office: (213) 620-4646

(Sacramento, CA) Assemblymembers Miguel Santiago and Marc Steinorth, in conjunction with Senator Steve Glazer, Assemblymember Bill Quirk, and 13 other co-authors announce introduction of new legislation aimed at protecting Good Samaritans in California.

Earlier today, the Majority Whip of the State Assembly, Miguel Santiago (D-Los Angeles), and Assemblymember Marc Steinorth (R-Rancho Cucamonga), in conjunction with Senator Steve Glazer (D-Orinda) and Assemblymember Bill Quirk (D-Hayward), announced the introduction of Assembly Bill 797, the California Right to Rescue Act. The bill, co-sponsored by Los Angeles County District Attorney, Jackie Lacey, and The Humane Society of the United States, protects citizens from liability for necessary actions taken in good faith to rescue an animal from a hot car.

Last week, in anticipation of the measure being introduced, Assembly Democrats and Republicans both participated in the Hot Car Challenge to see how long they could withstand the interior of a parked, closed car as temperatures rose as an example of the peril animals face during warm months. Every year, thousands of animals succumb to heatstroke in hot, unattended vehicles. The facts are staggering:
Even on an 80° day, the temperature in a parked car can reach 120° in just 10 minutes.
On a 90° day, the interior temperature of a vehicle can rise as high as 150°.
As the legislators learned, these temperatures are unbearable for any person, but especially for animals who do not have sweat glands like humans.
Many concerned citizens come across animals who are left in vehicles during warm months and in need of rescue, but aren't sure what to do and fear being sued and/or arrested if they take unauthorized steps to free an animal. AB 797 allows a Good Samaritan to break into a vehicle to rescue an animal if specific conditions are met he/she follows various steps prior to entering a vehicle. Those steps include:
Check that the car cannot be opened.
The animal must be suffering harm or in imminent danger.
Contact law enforcement.
Remain with animal in safe location until law enforcement arrives.
Don't use more force than necessary to rescue the animal.
According to AB 797, if these steps are followed, Good Samaritans would then be protected from criminal prosecution of liability for civil damages.
California law already makes it illegal to leave an animal unattended in a parked vehicle. State law has also long protected Good Samaritans who rescue children that have been left in vehicles. AB 797 follows legislation recently passed in other states (Florida, Michigan, Ohio*, Tennessee, and Wisconsin) by extending these provisions to people who rescue animals in a similar fashion.
(* = Legislation pending approval by governor.)
"I am proud to be working on this bipartisan effort to end inhumane animal deaths," stated Assemblymember Santiago. "After participating in the Hot Car Challenge, myself, I cannot even fathom an animal's ability to withstand those extreme temperatures. AB 797 allows Good Samaritans to safely and carefully rescue animals trapped in hot cars — an issue that is especially poignant as we head into summer in California."
"The Right to Rescue Act will save lives," said Assemblymember Marc Steinorth. "We all know how hot our cars get sitting in the heat, but so many people don't recognize that leaving your dog in the car for even a few minutes in these conditions can be fatal. More than anything, we hope that AB 797 will raise awareness of this danger so pet owners remember to leave their dogs at home."
"Our strongest hope is that this legislation will raise awareness about the dangers of leaving animals unattended in hot vehicles. We know people don't mean to put their animals in jeopardy, but they often don't understand just how quickly the situation becomes dangerous and even deadly," said Jennifer Fearing, who represents The Humane Society of the United States, the San Francisco SPCA and Best Friends Animal Society. "We are grateful that such a strong bi-partisan contingent of state lawmakers see fit to propose protections for Good Samaritans and to provide specific steps needed to assure those protections."
"Every year, hundreds of animals suffer, and many die, in Los Angeles County from being left in hot vehicles. By the time a citizen spots an animal trapped in a hot vehicle the situation is often dire, and requires immediate action," said Dan Felizzatto, Deputy District Attorney with Los Angeles County District Attorney Jackie Lacey's office. "Because a call of this nature may not be a priority for law enforcement, peace officers may not respond in time. AB 797 provides a legal framework for a Good Samaritan to follow in order to remove an animal from a hot vehicle, without fear of legal repercussions. AB 797 will save lives."
AB 1674 is slated to be heard in the Senate Judiciary Committee on June 14th.